Contents of Business
A world-leading specialist in key components and advanced devices for wireless communication and information transmission
Yokowo offers innovative high-tech products to manufacturers worldwide in the rapidly advancing electronics, electrical machinery and automotive industries, calling on its unique, cutting-edge technology and on the production engineering capabilities of its global network of plants and service offices. With the expansion of our business domains, our activities now range from ITS and other social infrastructure solutions to medical devices, contributing to public safety and comfort.
Yokowo remains committed to swiftly identifying next-generation needs for electronics solutions and advanced devices and to developing products that meet those needs. We will also upgrade our framework of complete pre- and post-sales services to better contribute to the success of our customers. We aspire to be a company that continues to grow steadily with its customers.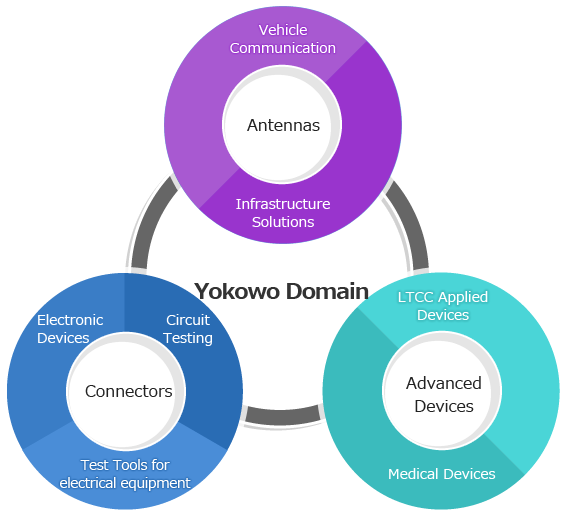 Antennas
Vehicle Communication

Yokowo supplies a full array of on-board antennas covering broad frequency ranges, including those for inter-vehicle and road-to-vehicle communications in advanced driver assistance systems (ADAS) and automated driving systems, in step with trends towards more compact composite models, media diversification and RFID support.
Infrastructure Solutions

Yokowo offers comprehensive management services, from supplies to maintenance, meeting community needs for the key components of ITS and other social infrastructure solutions, including antennas, RF units, and signal processing software.
Connectors
Electronic Devices

We are reliable suppliers of an extensive lineup of fine connectors and universal interfaces for tablet PCs and other devices, which we developed originally to meet the requirements of connectors used in small mobile devices, such as higher durability, waterproofing, space efficiency, and miniaturization.
Circuit Testing

Yokowo proposes a broad spectrum of fine connectors and test systems for front to back-end testing, which excel in signal integrity and are capable of testing the high-speed performance of semiconductors and electronic components amid trends towards higher density, greater integration and higher frequency. With complete before- and after-sales service systems, Yokowo answers the needs of customers.
Test Tools for electrical equipment

Yokowo provides test tools for electrical equipment and components. All products are available from just one unit with immediate delivery.
Advanced Devices
Medical Devices

Medical devices need to support leading-edge medical technologies and demonstrate the highest reliability. In this segment, Yokowo offers the integrated production of its original products based on micro precision processing and microwave technologies and contributes to client product development with its infallible quality assurance system.
LTCC Applied Devices

Combining leading-edge LTCC, 3D RF design and other technologies, Yokowo meets the needs of customers with an extensive array of products, including RF module substrates, interposer substrates, mount board and LED package.