Advanced Devices:Medical Devices
Integrated production of OEM guide wires, catheters, and other items through the use of Yokowo's advanced core technologies in minimally invasive medical equipment.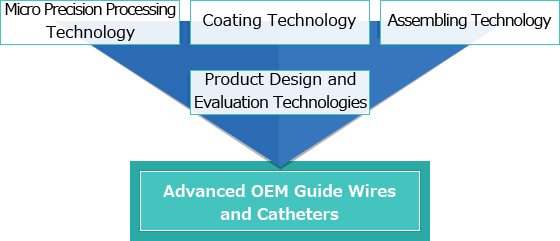 Yokowo possesses its own equipment and manufacturing lines that use these proprietary technologies to provide integrated services for products at all stages, from components to finished products.
Please click on here to see an introduction to medical devices and SmartWeld®, technology for welding different materials.
OEM Guidewires & Catheters Assembly
Yokowo provides full production process for guidewire assembly including core wires process, coiling process, hydrophilic coating, packaging and sterilization. We can also contribute to customers' product development with our proprietary technologies including simulated use and other production evaluation, unique production engineering technologies. To meet customer usage, Yokowo provides various core improvement technologies, including soldering, laser welding, and resistance welding.
Enlarged Figure of Hydrophilic Coating
Assembly of Esophageal temperature probe
Quality Management
All of our OEM assembly units are manufactured, processed, and inspected in a clean room rated as class 10000. Yokowo is an ISO 13485 certificated company to ensure continuously manufacturing and supply of safe and useful medical devices. We are also U.S. FDA registered company, with QMS in place, to help our customers' US business.

ISO13485 Certification Mark
Registration Date:2012,03,05
Examination in a Cleanroom
Parts Processing in a Cleanroom
1st Cleanroom
2nd Cleanroom
Precision Machining Application
Tip Terminal of Catheter

Applied to : Catheter, etc.
Material : Pt, Ptlr, PtNi, Au, SUS, etc.
Core Wire

Applied to : Guide Wire, etc.
Material : SUS / NiTi, etc.
Tubing Application
Marker, SUS Tube

Radiopaque Marker
Applied to : Catheter
Material : Pt, Ptlr, Au, SUS, etc.
Coiling Application
Round Wire Coil

Radiopaque Marker Coil

Coil for Guide Wire

Coil( Unequal Length Pitch )
Coil( Taper Forging )

Applied to : Coil for Guide Wire, Marker, etc.
Material : PtNi, PtW, Ptlr, Pt, SUS, Au, etc.
Flat Wire Coil

Coil for Catheter Shaft

Applied to : Shaft of Catheter
Material : SUS, Pt, Ptlr, etc.