Advanced Devices:LTCC Applied Devices
Developing new solutions harnessing LTCC and RF technology.
Yokowo's LTCC substrates and packages, sold the world over.
With the Low Temperature Co-fired Ceramics (LTCC) at the core, Yokowo offers LTCC substrates to enable high-density wiring, compatible with compact, low-back and RF devices.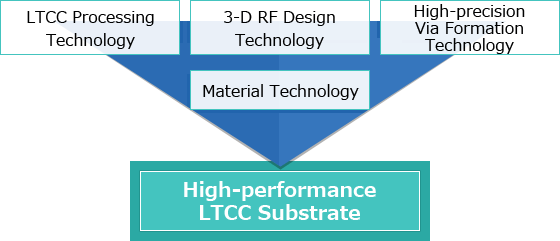 LTCC: Ceramic Substrate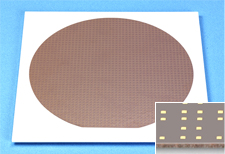 Wafer-level Chip Size Package Substrate (Self-developed material)
Substrates for use in the wafer level CSP sector increasingly require high-density, high-precision pattern formation and flatness. It is necessary to increase the size of substrates in the field of semiconductor testing equipment, while high heat release, high brightness and high durability are required in the field of LED packages. Yokowo harnesses cuttingedge LTCC processing technology and 3D RF design technology to offer its customers products that meet their needs with precision.
3-D RF Design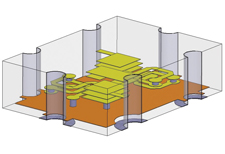 Using a circuit and electromagnetic field simulator, Ansoft Designer and HFSS, Yokowo provides circuit design and three-dimensional RF design for antennas, filters, RF module substrates and others.
Interposer Substrate for Semiconductor Wafer Test
An LSI semiconductor wafer can have thousands of densely aligned bonding pads. LSI testing cannot be performed without a prober for physically expanding the narrow pitch pads of the semiconductor to connect them to the tester.
Based on its advanced LTCC processing technology, Yokowo has successfully developed an interposer substrate that plays a central role in the prober. Together with its vertical micro precision probe, Yokowo will respond to sophisticated demand from the semiconductor wafer sector.
12 inch Interposer Substrate for Memory
(Internal Power Supply & Ground)
Internal Wiring is Available
LTCC Interposer Substrate
Enlarged DUT Pattern
Interposer Substrate for Logic
(Multi Pin & Dut)
Radiograph of Stacked Via Holes

(50 Layers, Via Dia. : 50µm)

Fine Pitch Pad Area

Min. Pad Pitch : Around 120µm
LTCC Applied Devices
LTCC Substrate for RF

Dielectric Material for high frequency wave (εγ:50)
Self-developed material: YDM-500 (US PAT No.7781359)
Substrate for RF Module

Dimensions of product: 3.3×5.1×0.5mm
Printed Resistor: 1Ω~10MΩ
LTCC Substrate Mounting High Frequency IC

Mounting high frequency device
LED LTCC Substrate

High reflectance material
High heat dissipation
Excellent mountability due to its superior flatness
LED Substrate for Vehicle

Mounting high brightness LED
LED Super-thin LTCC for CSP Substrate

Thickness : 0.075~0.150mm
Backlight LED Multiple LTCC Package

LTCC Integral Structure
The light that is more uniform than a package type
Other LTCC Product
High Brightness/Ultraminiature LED RING LIGHT of LTCC
A compact size, high brightness, and extreme durability are requirements for the light sources of small CCD cameras. Yokowo has commercialized a High Brightness/Ultraminiature LED RING LIGHT of LTCC that fulfills these needs.
This product comes with multiple LED devices, is an ultraminiature size, and can be positioned directly under a small CCD camera without an optical fiber cable, and can secure a sufficient amount of light.
In addition, by adopting the heat resistant LTCC circuit board manufactured by Yokowo with its special silicon resin seal, this product has extreme durability.
Applications for use: dental instruments, industrial/medical endoscopes, microscopes, etc.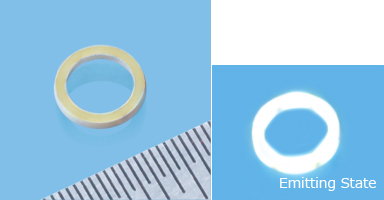 Scale=0.5mm