Latest Results
Latest Financial Announcements
Financial Announcements for the Current Term
Trends in the Past Three Fiscal Years and the Current Fiscal Year
2016/03
2017/03
2018/03
2019/03*
Net sales
(million yen)
FY
39,998
44,077
51,919
54,500
2Q
19,432
20,937
24,765
26,645
Operating income
(million yen)
FY
1,057
2,516
3,135
3,000
2Q
449
1,122
1,316
1,324
Ordinary income
(million yen)
FY
822
2,608
2,911
3,200
2Q
385
686
1,395
1,742
Profit attributable to owners of parent
(million yen)
FY
412
2,381
2,337
2,350
2Q
▲128
407
1,071
1,287
Basic earnings per share
(yen)
FY
20.61
118.94
115.82
116.16
2Q
▲6.41
20.35
53.14
63.64
*Numbers for the full year of the term ending March 2019 are forecasts announced on August 9, 2018.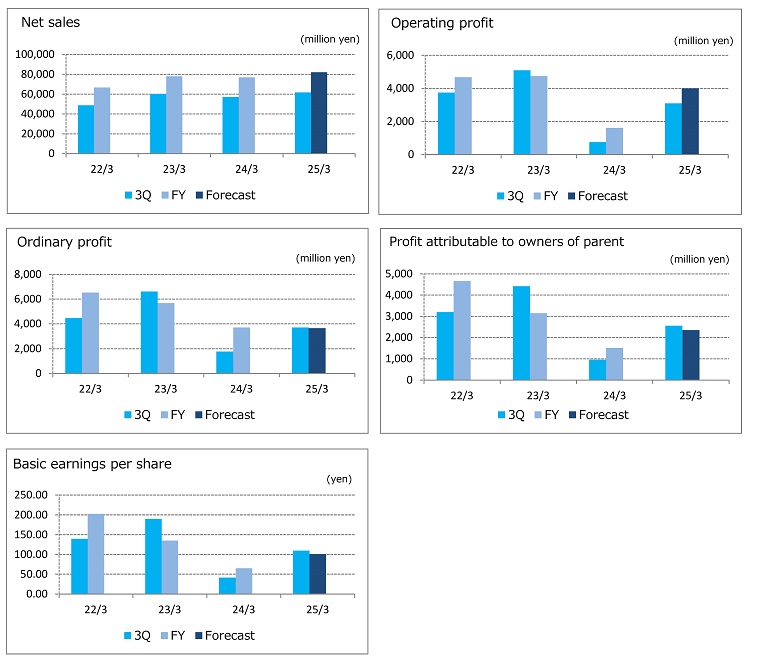 Overview of Consolidated Financial Results for the First Half of the Fiscal Year Ending March 31, 2019
Sales for the first six months under review grew to ¥26,645 million (up 7.6% year on year), reflecting year-on-year increases posted in vehicle communication equipment and personal communication equipment segments. Operating income climbed sharply, to ¥1,324 million (up 0.6% year on year), supported by profitability restoration in the vehicle communication equipment segment and substantial year-on-year growth posted in the personal communication equipment segment which offset a year-on-year decline recorded in the circuit testing connector segment. Ordinary income grew steeply to ¥1,742 million (up 24.9% year on year), too, due to causes that included the posting of foreign exchange gains of ¥409 million resulting from the depreciation of the yen. Profit attributable to owners of parent also increased to ¥1,287 million (up 20.2% year on year), a result of the ordinary income growth stated above.
Overview of Sales by Product
Vehicle Communication Equipment
The vehicle market, a key market for this segment, continued its steady expansion thanks to the satisfactory growth of Chinese and ASEAN markets, even though a downward turn occurred in the U.S. market. In the Japanese market, the number of registered vehicles decreased, but new vehicle sales increased slightly year on year as a result of strong sales light vehicles achieved.
In this environment, sales of mainstay products such as shark fin antennas, GPS antennas and other antennas for car manufacturers increased year on year due to sales growth both in Japan and overseas. In the meantime, sales decreased year on year for products that are primarily aimed at the Japanese market, such as film antennas, reflecting low growth in the number of new vehicles sold.
As a result, sales for this segment increased to 18,662 million (up 8.3% year on year). Net income from this segment was 261 million (loss of 76 million in the same period of the previous year), reflecting falls in transportation costs for components and products even though production and personnel costs stayed high in China and rises in customs duties on exports to the United States pushed profits down.
Circuit Testing Connector
In the market for semiconductor testing systems, a key market for this segment, there were a slowdown in products for smartphones and a lull in the demand for memory products. The market is expected to continue to grow on an overall basis, however, due to increased demand for automobile and server applications.
In this environment, sales of BGA sockets and other jigs for semiconductor back-end testing, which comprise the Group's mainstay products, declined year on year due partly to production adjustment by the Group's major customers based on the slow growing market. Sales of jigs for semiconductor front-end testing, for which high-frequency electronic component testing MEMS probe cards form a strategic centerpiece, also decreased from a year ago, due mainly to a fall in replacement demand resulted from significant improvement in quality and durability of our products. On the other hand, the LTCC business recorded in this segment saw year-on-year growth, thanks to a sharp rise in sales of interposer and LED substrates.
As a result, sales for this segment declined slightly to 4,342 million (down 2.6% year on year). Net income from this segment was 282 million (down 65.6% year on year), reflecting factors such as falls in the sales ratio of relatively high-margin products and rises in fixed costs attributable to a substantial increase in the number of manufacturing personnel aimed at expanding the size of the business in the future.
Personal Communication Equipment
In the mobile device market, the principal market for this segment, growth is slowing for smartphones and tablets, while further growth is expected for wearable terminals given their increasing diversification and sophistication. The POS terminal market has been growing steadily in a wide range of industries, including physical distribution and manufacturing, reflecting the businesses' viewpoint of improving operational efficiency through information management. In addition, growth in this segment is also expected in the healthcare, industrial equipment and other markets.
In this environment, sales rose from the same period of the previous fiscal year in the fine connector business, with fine spring connectors as the company's core products. This was due to strong sales of products for POS terminal manufacturers and the healthcare market, offsetting a fall in sales to mobile device manufacturers caused by a decrease in orders.
In the medical device business, which also forms part of this segment, sales grew sharply year on year as a result of strong sales of unit products to domestic customers as well as an increase in sales of components.
As a result, sales in this segment expanded from a year earlier, to 3,640 million (up 18.3% year on year). Net income from this segment was 780 million (up 41.2% year on year), reflecting changes in the product mix and business lineups.