To Individual Investors


Goal of Yokowo
A technology-based enterprise
Technical capabilities are the source of the growth of the Company.
The demands of markets and customers have been changing from individual parts to modules and systems in recent years. To meet these needs, the Company is bolstering technologies and pursuing innovations to evolve from a parts manufacturer to a module manufacturer.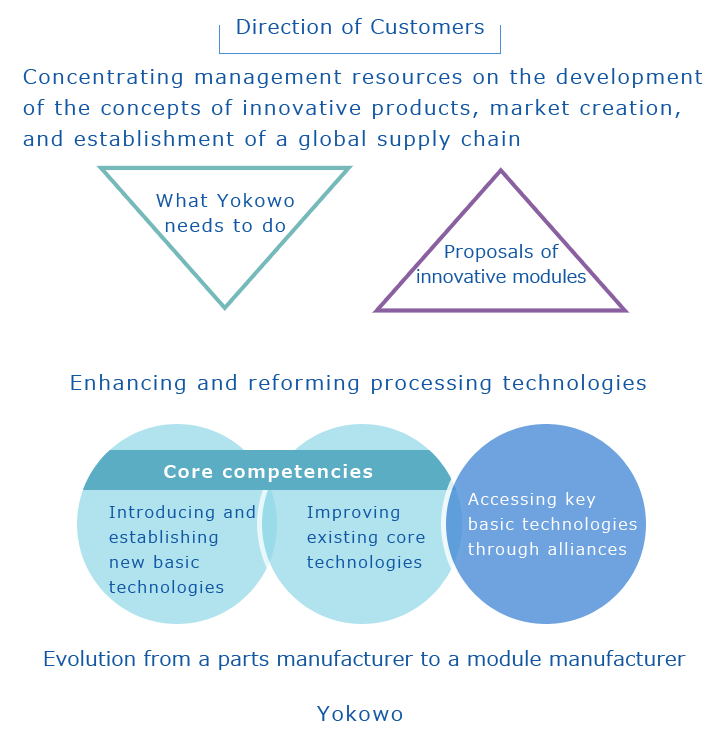 Review the existing core technologies and enhance and reform them for competitive superiority.
Contribute to businesses from new technologies currently being developed, including LTCC (Low Temperature Co-fired Ceramic) technology, at an early stage.
Search for and introduce new core technologies and make them the driving force for business structural reform.
Dedication to Quality
Establishment of Yokowo Quality Brand
Quality,Cost,Delivery,and Environment
An environmentally friendly manufacturing process
Living in perfect harmony with nature
The Group is dedicated to quality. We seek to eliminate the use of substances that are harmful to the environment and the human body. To do this, we assess products to consider environmental conservation in manufacturing from the design phase onwards and fully inspect all components and parts used in our products at our domestic and overseas sites.
Through these efforts, the Group aims to establish the Yokowo quality brand to provide customers with the highest-quality products.
Encouraging an Evolution in Management
The Company will evolve its business by pursuing three innovations: product innovation (to enhance business and product structures), process innovation (to enhance business processes and systems) and human resources innovation (to enhance the human resources structure).
Product Innovation

Change the structure of businesses (products) themselves, the business models, and the market mix to create new ones.
Bolster core technologies and seek new technologies to change the structures.

Process Innovation

Remodel the business process from development through production to sales to make it speedy and competitive.
Promote production process innovation, the key to securing profits.

Human resources Innovation

Help employees become a group of professionals who can achieve product and process innovation.