Antennas:Vehicle Communication
Contributing to a safe and comfortable automotive life through innovative antenna technology.
A rapid shift is taking place towards digital, intelligent, high-frequency systems in the realm of vehicle communication systems. The industry continues to develop multimedia and Intelligent Transportation Systems (ITS) and find increasingly widespread applications for them.
As an antenna specialist, Yokowo understands the basic requirements of antennas for communication systems: miniaturization and combination. We deftly apply the antenna, microwave, and micro precision processing technologies that we have refined over many years. These technologies enable us to contribute to safety and comfort for drivers, by continuing to offer advanced antennas.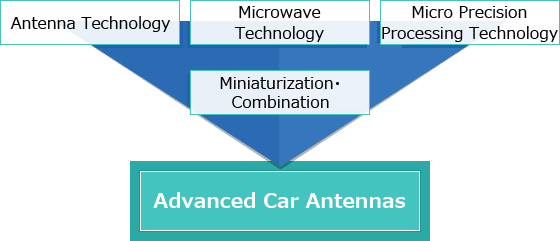 Vehicle Communication Equipment Business Domain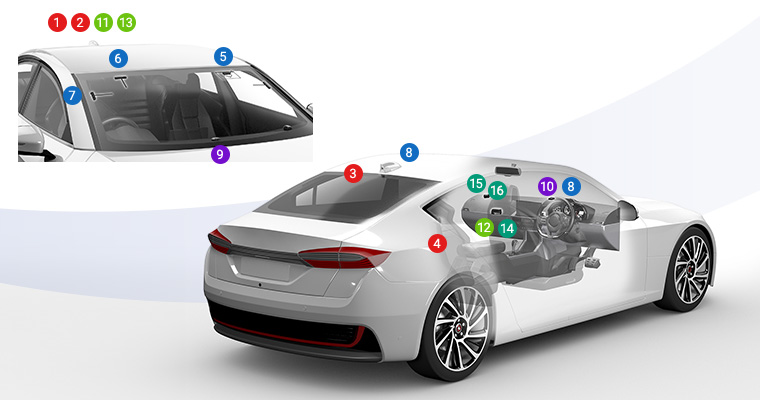 AM/FM Radio
Shark Fin Antenna
AM/FM Shark Fin Antenna
Combined Shark Fin Antenna
(AM/FM/Cellular/GNSS/SDARS)
LED Shark Fin Antenna
The stylish form which improved design characteristics
Supporting same color as vehicle body to improve design of the vehicle
To support with the media of each forwarding in a housing of ALL IN ONE
Micro Antenna
AM/FM Micro Antenna
(Mast Length(mm):from Left. 110,180)
Combined Roof Antenna
(AM/FM/LTE/GNSS/SDARS)
Amplifier
Amplifier for Glass Mounted Automobile Antenna
Variation of the body installation (Installable wherever on front glass, rear glass or on roof)
Applicable for the multimedia of the vehicle by up to 6 band (4 media) correspondence
Digital Broadcasting
Japan
Laminated Antenna for Digital TV / GPS
Laminated Antenna for Digital TV (Ground Free Type)
Laminated antenna for front window
Small sized/high quality antenna designed to enable wide visibility for driver and passenger
Laminated Antenna for V-Low
Supporting V-Low multimedia broadcasting
EU
Laminated Antenna for Europe DAB
Supporting L-Band and BandIII
Small sized/high quality antenna designed to enable wide visibility for driver and passenger
North America
Antenna for SXM
Small sized/high quality antenna for satellite digital radio
Navigation
GPS Antenna
GPS Antenna
Realizing miniaturization with maintaining high gain and low axial ratio
GNSS Antenna
Supporting GPS/GLONASS/Galileo/BeiDou
Telematics
Dual Band Antenna
Combined Shark Fin Antenna
(LTE/GNSS/GPS/SDARS/V2X)
Receiving worldwide telephone signals
E-call system application
Achieving high gain with compact low profile mechanism
LTE/GNSS In-Dash Antenna
Electronic Toll Collection/Dedicated Short Range Communications
Antenna for ETC/DSRC
GPS/DSRC Hybrid Antenna
DSRC Roadside Unit