Promotion of CSR
Environment
The Yokowo Group recognizes that conducting business activities in harmony with the global environment is an essential responsibility for a corporation. The Yokowo Group continues to implement a range of Group-wide environmental preservation activities based upon defined environmental policies in order that we can pass on our irreplaceable global environment to future generations.
Considering that the Yokowo Group cannot gain social and stakeholder confidence unless it develops and strongly implements more concrete climate change measures, the Group revised its Environmental Policy and Action Guidelines on October 15, 2021. The Group will strengthen the CSR Promotion Department and adopt specific measures, including a reduction in greenhouse gas (scope 1 and scope 2) emissions. The Group will disclose these measures and progress in their implementation in the CDP (Carbon Disclosure Project) framework. The Group will also put more effort into reducing scope 3 greenhouse gas emissions.
Environmental Policy
Today, when Japan and the rest of the world are starting to make a serious effort to realize carbon neutrality by 2050, Yokowo is living up to the needs that our stakeholders and society as a whole have in us by formulating more concrete measures in response to climate change, and working actively to implement them. From this point of view, we support the recommendations of the FSB Task Force on Climate-related Financial Disclosures (TCFD), and we implement specific initiatives to achieve the target of reducing greenhouse gas emissions from our plants (Scope 1 & 2) by 35% by FY2030, compared to FY2014 and promote specific climate-related information disclosure.
Yokowo is also committed to helping to create a rich natural environment. We seek to do this through our environmental management system and through activities designed to achieve continuous improvements in environmental performance. As part of our commitment, we take into consideration the environmental impact of our business activities and comply with all relevant environmental laws, regulations, and guidelines, as well as with each customer's specific guidelines.
Action Guidelines
1.Yokowo supports the TCFD recommendations, and besides formulating and implementing concrete measures to achieve the target of reducing greenhouse gas emissions from our plants (Scope 1 & 2) by 35% by FY2030, compared to FY2014, we will also be disclosing details of the measures taken, through the Carbon Disclosure Project (CDP) framework.
2.Yokowo will continuously and actively promote energy saving, resource conservation, and recycling to contribute to the protection of the global environment.
3.In respect of chemical substances which are harmful to both the environment and human body, Yokowo will prevent environmental pollution by implementing preventive measures and action plan, which include those for the case of abnormal and emergency operation, and will minimize the use of hazardous chemical substances.
4.Yokowo will comply with all relevant environmental laws, regulations, and each customer's specific requirements, and intend to enhance our environmental management by our original internal standards.
5.Yokowo will set objectives and goals for our environmental activities and improve our environmental management system continuously by periodically reviewing the objectives and goals.
6.Through in-house education and publicity, Yokowo will promote all the employees' recognition of involvement in environmental preservation and will make these activities take root as daily duties.
7.Yokowo ensures that all the employees including those of affiliated companies are fully aware of the environmental policies, and will disclose them to the public on request.
8.Yokowo will contribute to the development of a sustainable society by considering the impact on biodiversity in all its business activities.
Enacted: June 1, 2005
Revised: October 15, 2021
Quality,Cost,Delivery,and Environment
An environmentally friendly
manufacturing process
Living in perfect harmony with nature
Global Organization for Environment Management
Yokowo implements environmental management throughout the global group companies under the organization as shown below.
The Environment Committee at each production base adopts the ISO14001 (environmental management system) PDCA cycle to improve the quality of the Group's environmental measures. Each Environment Committee will set up a Climate Change Task Force that will focus on instituting climate change measures.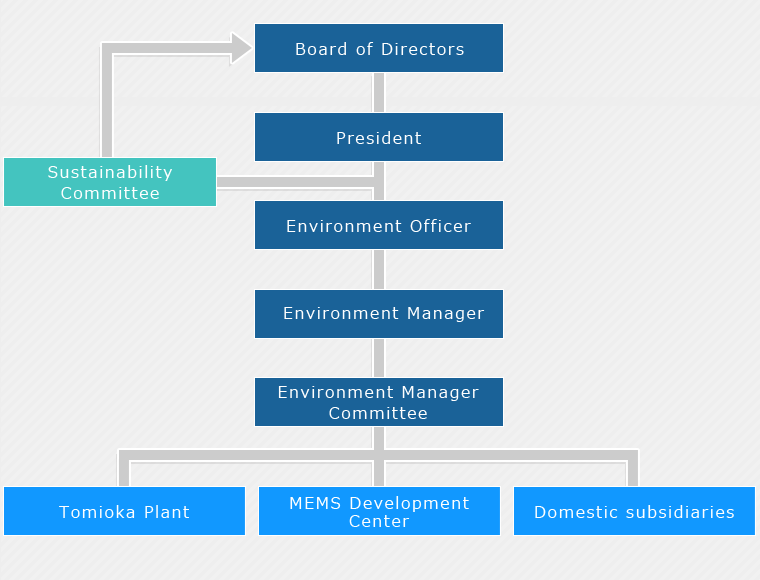 ISO14001 Certification
The Yokowo Group has constructed an Environmental Management System in a bid to preserve the environment and to prevent pollution. Its individual production bases have been certified with ISO 14001. The environmental management committees at individual plants take the initiative in ISO-compliant environmental activities. They define the purposes and set the goals so that Yokowo personnel will strive to fulfill them in their respective workplaces.
DOMESTIC
ISO Certifications
Certificate Registration No.
Certification Body
YOKOWO CO., LTD.
ISO14001:2015
JQA-EM0153
JQA
YOKOWO COMMUNICATION COMPONENTS & SYSTEM CO., LTD.
YOKOWO PRECISION CO., LTD.
OVERSEAS
ISO Certifications
Certificate Registration No.
Certification Body
DONGGUAN YOKOWO CAR COMPONENTS CO., LTD.
ISO14001:2015
01219E20654R4L
CEPREI
YOKOWO ELECTRONICS (M) SDN. BHD.
12556/A/0001/UK/En
URS
YOKOWO VIETNAM CO., LTD.
JQA-EM7603
JQA
*Reference: ISO Certification Acquisitions
Environmental Performance
In order to minimize the environmental impact continuously from our business activities and, at the same time, to achieve sustainable growth, Yokowo has implemented the following activities:
Resource
For the purpose of natural resource conservation, Yokowo minimizes the volume of waste generated from our business activities, conducts thorough waste sorting, and carries out recycling from the sorted waste.
Waste sorting

Sorted recyclable paper.
The greenhouse gas(GHG) emission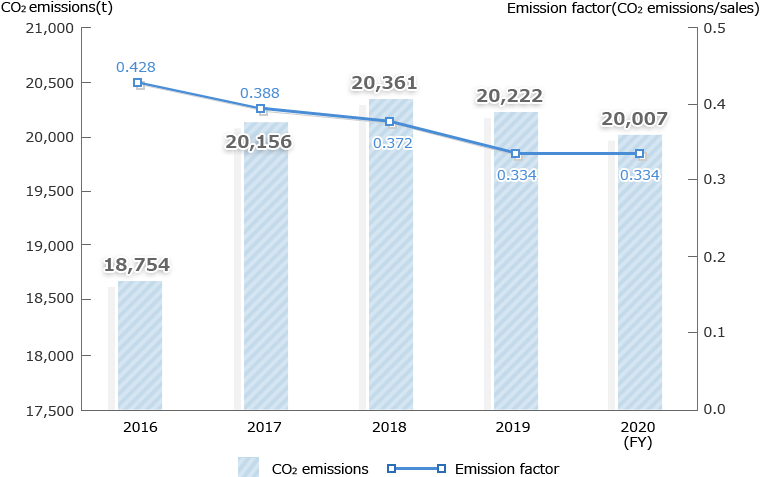 Electricity CO2 conversion factor is calculated using the following:
 Domestic: TEPCO Energy Partner, Inc Basic Emission Factor
 Overseas: IEA Official Factor
*GHG emission factor: GHG emissions (tons) / Sales (million yen).
Consideration in Environmental Impact from our Products
Aiming to ensure the safe management of chemical substances, which are harmful to the environment and the human body, the Yokowo Group begins product assessment at the stage of product design and implements stringent checks on components incorporated into the product at domestic and overseas locations. In addition, we are carrying out the green procurement policy more strictly and promoting the implementation of environmentally friendly production as a group-wide activity.
Compliance with Global Restrictions on Chemical Substances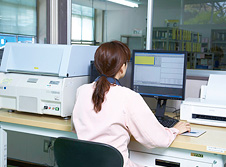 Energy Dispersive Fluorescent
X-ray Spectrometer
Yokowo specifies those substances subject to its independent control in accordance with the EU environmental regulations and makes clear its goal to reduce and eliminate harmful chemical substances.
With respect to the parts used in products, Yokowo places emphasis on information sharing with suppliers. With the use of inductively coupled plasma (ICP) analyzers and fluorescent X-ray analyzers, Yokowo performs strict inspections to supply products that meet the demand of car manufacturers and electrical equipment manufacturers for compliance with ever-changing chemicals regulations.
Green Procurement
Yokowo holds supplier meetings on chemical substances contained in products and conducts environmental evaluations, such as chemical component analysis, for our suppliers in a bid to preferentially procure products with smaller environmental impacts.
Environmental Education
Through the following comprehensive training and seminar programs for all our employees to increase awareness and understanding of environmental preservation, we, Yokowo group as a whole, implement the environmental preservation activities.
Human resource development
Functional or by role development
Basic knowledge education
In-house auditor education
In-house communication
Educational Activities

Environmental management education as a part of corporate comprehensive education plan
Employee training by equipment and process
Environment awareness education to comply with basic standards
Training to enhance the skills of in-house environmental auditors
Publication of environment related information via intranet