Promotion of CSR
Information Security
Information Security Policy of the Yokowo Group
The Information Security Policy of the Yokowo Group (the "Group") aims to ensure that the Group always recognizes the importance of all information assets handled thereby, including information provided by its customers and business partners, and to prevent all improper disclosure, divulgence, and unauthorized use of such assets, in order that the Group may continue to be a trusted member of society.
Compliance

The Group shall comply with all of the following that concern information security: laws and regulations, guidelines stipulated by national governments and other public agencies, and corporate rules.

Framework

The Group shall establish a framework for information security, including an information security committee that shall be responsible for the information security of the Group, and shall continuously maintain and improve this framework for information security.

Management of Information Assets

The Group shall establish confidentiality rules that stipulate the handling of information assets in accordance with their level of importance and properly manage information assets based on confidentiality regulations in order to ensure information security.

Training

The Group shall train all of its officers, employees, and other persons involved in its business in the rules and practices governing the handling of information-including laws and regulations, guidelines stipulated by national governments and other public agencies, and corporate rules concerning information security-in order to raise the level of awareness regarding information security.

Preventing and Responding to Incidents

The Group shall strive to prevent any information security-related incidents. If any such incident should occur, the Group shall do take measures to minimize the impact of the incident and promptly determine its cause. In order to prevent the recurrence of the incident, the Group shall take the appropriate action and implement whatever measures are necessary.
April 1, 2013
President, Takayuki Tokuma
Information Security Management Framework
The Yokowo Group (the "Group") is working to advance its information security activities under the following framework.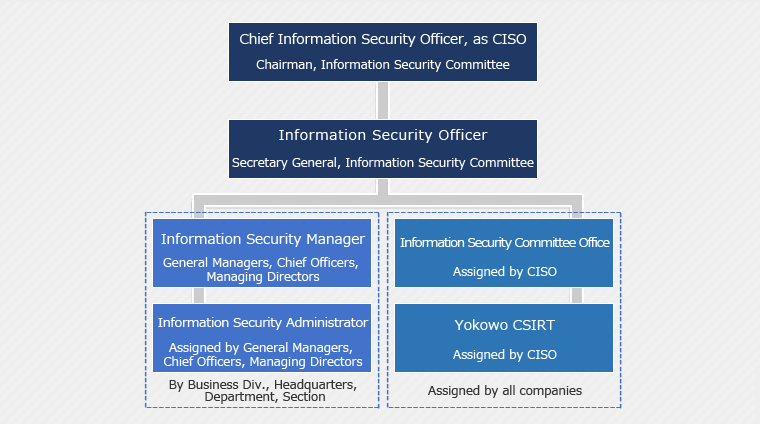 Our Efforts towards the Enhancement of Information Security
Under the Group's Information Security Policy, Yokowo recognizes the management of information security as one of the most important issues in business management. In order to manage information appropriately, it has constructed an information security management system (ISMS), and is working together with the entire Group to advance its information security activities. In December 2014, Yokowo head office and its three domestic group companies acquired ISO27001, the International Organization for Standardization (ISO)'s information security management system standard.
Overview of the ISO27001 Certification
Registered Organization
YOKOWO CO., LTD.
YOKOWO COMMUNICATION COMPONENTS & SYSTEM CO., LTD.
YOKOWO PRECISION CO., LTD.
YOUR CONSULTING CO., LTD
LTCC Materials Co., Ltd.
DONGGUAN YOKOWO CAR COMPONENTS CO., LTD.
DONGGUAN YOKOWO COMMUNICATION COMPONENTS CO., LTD.
YOKOWO ELECTRONICS (M) SDN. BHD.
YOKOWO VIETNAM CO., LTD.
YOKOWO EUROPE GmbH
YOKOWO EUROPE GmbH Düsseldorf office
Authenticated Standards
ISO/IEC27001:2013
JIS Q 27001:2014
Certificate Registration No.
JQA-IM1286
Certification Body
Japan Quality Assurance Organization(JQA)
Registered Certification Scope

Design / Development, Manufacture and Sales of

Car Antenna and its component parts
Spring Connector and their component parts for A.V., Telephone and communication equipment
Contact Probe, Test Head and their component parts for Testing equipment of IC and LCD
Ceramic substrate and their component parts
Fine Component for Medical Device
Processing of parts for Spring Connector and Probe
Storage and Distribution control of products
Temporary Staffing Service
Information Security Education
Yokowo considers the basis for information security to be for each individual employee to have a high level of awareness with regard to information management, and works to keep all officers and employees (including temporary staff) well informed regarding laws and regulations, corporate policy and rules etc. governing information security. For this purpose, Yokowo implements various awareness raising activities, such as carrying out once-yearly e-learning sessions on information security, and issuing an Information Security Handbook that details practices which should be followed during the course of everyday duties.
Protection of Confidential Information
Under its Information Security Policy, Yokowo has established confidentiality rules for the protection of confidential information. The Group and all suppliers etc. engaged in Yokowo's business handle and protect, both strictly and appropriately, all information assets possessed by Yokowo, and information divulged to it by its customers.